3 Definite Techniques to Make Your Dream Life Actually Happen
#1 Decide what your dream life actually is!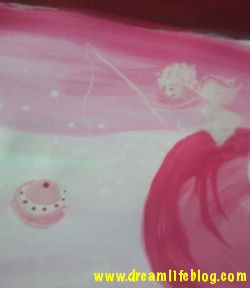 Have you ever consciously decided how and where you do want to live – in your actual dream life? Most people go like drunken through their lifes accepting just what is there already and never spend a serious thought on their actual life design. OK – most of them have dreams on what they want, but those dreams are mostly perceived as non-reachable, as dreams which can not become reality ever, just because they are dreams.
1st step to actually get closer to your dream life and to bring it into this reality is: to define it.
Have you ever done this? Why not do it right now?
#2 Don't care what other people say (or you just think they are saying about you)
First of all in regard to other people's talk and opinion: your fellows think less about you, your life and what you are doing then you think.
The what-other-people-think-about-me syndrome is more or less a result of your childhoods programming process. If you can't pass that in this very moment (which is absolutely human) just think about following:
Whatever you do: Who has to live with the outcome? – you or the people (seemingly) talking about you? Who has the actual responsibility for your life?
Just imagine you would know the ultimate answer to all your questions and the exact path to reach your dream life, but this answer would be so weird or unbelievable that all the other people would call you nuts if you would ever tell them. Would you continue as you do or would you just follow the path unknown to most people knowing that this is surely YOUR solution which can set you free? Would you sacrifice your best possible future living a real dream life for some other people's opinion?
What if your "good reputation" would be totally ruined anyway? What would you do in life then?
There is one point where this part is absolutely though and this is: family and human beings we love. The big problem there is: they know you in a certain way. They don't want to loose you and so they want you to stay where you are – in most cases. So what? There will be crossroads in your life where you have to make decisions and to ask yourself: who's life you do want to live?
#3 Discover your programming
Did you ever notice that mostly children of those who live a let's call it "perceived dream life" in riches and abundance become super successful themselves? Most people will understand it as 'they're just part of that family and so they just inherit but stop: a number of those descendants build their life based on their own efforts – even if supported by their families.
One of the main factors is that those children have learned how to live and create wealth and anything connected to it. They have a certain believe system, which definitely differs from those of average people and the same with their habits built over years growing up in their achieving parents care.
Of course, you can't change in what family you are born in, but it's worth to have a look at how you do things and your habits and even those of your parents. Did you inherit or learn something which does not nurture the life you want? Which habits would make you the person who lives the life you want?
Dream Life Summary
Define your dream life if you ever want it to become reality. If you don't do that there is nearly no chance to reach it.
Don't care what other people say.
You have to live YOUR life, not the one of someone else, even not your parent's one.
Those people most closed to you can hurt you most. Take care.
Be aware of your habits and how you do things – can those lead to the life you want? Did you take over or inherit something which does not serve the path you intend to go?
Dare to live your dream life,
a life by YOUR own design on your own terms! You deserve it!
Kathrin Held
22 Responses to 3 Definite Techniques to Make Your Dream Life Actually Happen