How To Create Opt-In Pages That Trigger The Fellows YOU Want?
Get into the Shoes of an Online Opportunity Seeker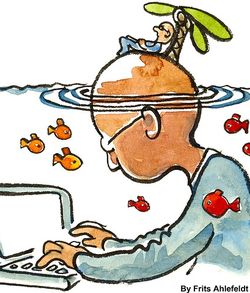 Just thought of creating another opt-in page for one of my promotion and wanted to get the right "vibe" to do that.
At that moment I was thinking about opt-in pages for solo ads for a certain opportunity.
Solo Ad seller's audiences are so called opportunity seekers. So – what should we present them?
We really need to get into their shoes to create an opt-in page that fits, and not only that. We need to think of our ideal customer. Not every opportunity seeker is our ideal customer.
The "Right Person"
Still remember my 1st MTTB sale. The one who bought couldn't be more my ideal customer. She was/is exactly the fellow I wanted and I love to work with. That's what fascinated me most about that sale. The opportunity I sold is MTTB / MOBE, which includes some services like a free blog and coaching I do for free as a bonus as well as ongoing support and direct access to me. That's why I am so interested that the right people join via me, people I love to work with.
The Right Time
At one hand it's about the person, but on the other also about where that person is – right now – on their very personal timeline – and – in case they've heard about your offer before – where are they in their buying cycle, how ready are they? Have they heard several times before about your product? … Too often?… or are they just at the right place to buy/signup now?
Expectations
Primarily it's more about THEIR expectation than yours.
What are my ideal customers (on those solo ad seller's list) already used to?
What have they seen too much?
What could trigger their interest or emotion and the impulse to opt-in?
Of course – if YOU do have expectations – whether in regard to opt-in rates, quality of subscribers/buyers
Get A Clue – Your Opt-In Page needs to trigger!
Really stand in their shoes.
Feel what they feel – as best as you can …
… and create an opt-in page – and goodies that…
they can not resist to opt-in
they want to see/know/have
is at least good enough to spend a good email address on
If any possible – over deliver!
Practical Tips
Keep your opt-in page very (!very!) simple
If your opt-in page in on your blog or part of a website, allow it to be different. I doesn't need to fit to the rest of the website/blog in regard to design
Use bullets
List main feastures
If you promote somehow "critical" products or opportunities, which are not being liked by certain sites like Facebook or anywhere you want to advertise your opt-in page – consider to do this on a separate URL
Have no other links than the signup/buy button to remove any possible distraction
Keep the opt-in form as short as possible, collect only what is absolutely needed to send them information. Don't ask for too much at 1st contact.
Have something to give away – if any possible
Create sense of urgency
… just use it and make the best out of it!
Dare to live your dream life! You are worth it!
Kathrin Held