Decide! It's YOUR Life!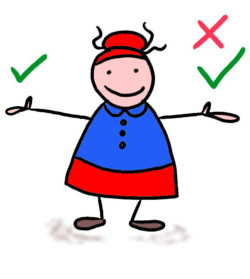 Looking back all achievements and results in my life are more or less an outcome of a decision I made in the past.
Is it the same with you?
Think! Even things we don't decide on – we decide on.
The decision not to decide is actually a decision, but let's start easy…
Unconscious Beings …
Day by day I see a number of people and I am contacted by people – whether directly here on my blog, via email or on
Facebook who seem to be a bit fuzzy in their mind.
They never decided in regard to certain things – including important key points in their life. Of course some have excuses like "I have so many interests" or "I am a scanner" or "I didn't decide yet". This is all not that bad, but what we have to be aware of is that if we don't make certain decisions, certain things will not happen.
Be happy, go your way, do what you want and what you need to do, but don't blame anyone else if you didn't do the steps necessary to create the live you want – including making decisions as necessary.
Goals …
Every well thought through goal actually includes a decision to achieve it – otherwise it wouldn't be a goal.
Of course, there can be things on your list, but if it's actually a goal then a decision to reach it – is more or less built in – otherwise it wouldn't make sense. This is one important thing which distinguishes wishes and goals.
Why not go through your goals list again right now?
When did you do it last time?
Don't have one? Create one!
Decisions Are So Necessary! Be Aware!
Do you remember decision you made that shaped your life – good or bad?
What did you decide on already to create the future life you want,
the life style you want, things you deserve?
What are you currently working on or puzzle around with, which
somehow didn't work out yet as you wanted?
Did you make a clear decision on that in the past?
If not – do you want to do that now?
What else do you need to decide on to life the life -you- want
in 1/ 3 / 5 years?
Dare to live your dream life! You are worth it!
Kathrin Held
PS: Shouldn't we all a bit more Japanese when it comes to execution? ( >>> )